Flange bolts & Nuts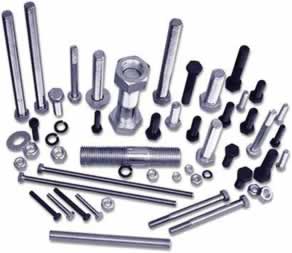 Flange bolts

Flange bolts are those type of bolts having a ridge or skirt around the bolt head. They are also know as frame bolts and are designed to provide the holding power as if a washer was installed. Please check the types as below:

Standard:

DIN 931, DIN 933, DIN 558, DIN 601, DIN 960, DIN 961, ISO 4014, ISO 4017, JIS B 1180, ANSI B 18.2.1

Mechanical Properties:

Metric Grades : 4.6, 8.8, 10.9, 12.9
Inch Grades : 2, 5, 8

Mechanical Properties:

Material: A193 B7/A194 2H; A193 B7M/A194 2HM; A193 B8/A194 8; A193 B8M/A194 8M; A193 B16/A194 4/7; A320 L7/A194 4/7; A320 L7M/A194 7M
Surface: black, galvanized, nickel plated, cadmium plated, Teflon plated
Flange Nuts
A flange nut is a nut that has a wide flange at one end that acts as an integrated, non-spinning washer.

Type: Welding Nuts, Wing Nuts, Nylon Self-locking Nut, Round Nuts, Acorn Nuts, Slotted Nuts, Square Nuts, Long Nuts, Hex Nuts, Flange Nuts, Eye Bolts, Tubing Nuts
material: carbon steel stainless steel, alloy steel, SWRCH8A, SWRCH35K, Q195LY,35#, 45#, 40CrMo.....
Surface: black,yellow zinc, white zinc, white blue zinc, H.D.G. , Dakeluo .

specification:M3-M27
standard: DIN6923, JIS1190, IFI D-21
Thread: Mm, unc, unf, and bsw
Packing:Papercarton or bag in a stronger pallet
Spherical Flange Nuts

material: carbon steel stainless steel, alloy steel, SWRCH8A, SWRCH35K, Q195LY,35#, 45#, 40CrMo.....
Surface: Black Oxide Finish, Case Hardened, 12L14 Material
specification:M8 -M36
When used with Spherical Washers, Flange Nuts will equalize thread loads
Many sizes conform to TCMAI standards
Standard package quantity: 41801-41807: 25 pcs.
Malleable Iron Pipe Fittings
Description of The Items
Sizes:1/4"-6"