Welcome to HYST QCCO China Steel Enterprise Ltd.
HYST QCCO China Steel provide a wide range of steel products as Steel pipes, Seamless tube and seamless pipes, Alloy pipes, Pipe fittings, Composite steel pipe used in the industry, construction etc.
In the range of -
company profile
- you will find your personal contact.
Know-how and best quality
More than ten years of profound knowledge turn HYST QCCO China Steel to your competent partner as trading house for valves, fittings and tubes of stainless steel. We are looking forward to get in contact by phone or email and we hope that you enjoy our website.
+
Read more...
Steel pipe are ubiquitous and can be found underground and within residential walls, laboratories, and commercial and industrial structures.
Seamless steel pipes are produced using an extrusion mold. Welded steel pipes are produced by rolling a sheet of steel into a tube and welding the seam. Seamless steel pipes are less expensive. The third method is casting. Molten steel is poured into a casting mold.
How to packing the seamless pipe
There are probably hundreds of different methods for packing a pipe, and most of them have merit, but there are two principles that are vital for any method to work prevent rusting and Sea transportation security.



Our packing can meet any needs of the customers.

We are specialized in offering precision engineered alloy steels, which are used in various engineering applications and can be availed in various grades like.

+ Read more...
More infomations
Our qualified team in our export department in China is always at your disposal and will help you. Profit by the knowledge of HYST QCCO China Steel which dispose to a intern data base.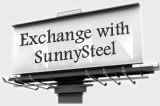 Here you can find an easy way to get HYST QCCO China Steel logo on your site.
As soon as you have made this link to fsapexsteel, please send me an email and you will have your company name on the fsapexsteel Logo Club with a link to the your site. It's easy, just copy paste the code from windows below on your web-page.