CNG High Pressure Tube
CNG High pressure pipeline is smooth and treated by acid.Each batch of high pressure pipe is carried out hydraulic test, flattening test, flaring test, intergranular corrosion test according to GB / T 14975-2002 standards.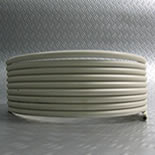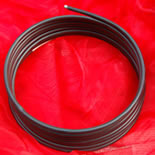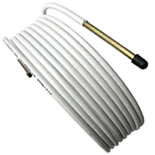 CNG High Pressure Tube

Raw material:
Seamless Steel Tubes with galvanized & PVC coating
Standard: DIN 2391
Geometrical Properties:
OD=6mm, Thickness=1mm, Length=6000mm.
Mechanical Properties:
Tensile Strength=310-410 Mpa(N/mm2)
Min Yield Strength=205 Mpa (N/mm2)
Min Elongation of fracture= 28%
Chemical Composition (%):
C:0.15 max Mn: 0.60 max Si: 0.30 max
P:0.025max S: 0.025 max
Wall Thickness:
2mm to 10mm or more
Working Capacity:
25000-35000cbm
Application:
One major application of these tubes is in CNG cars, delivering the gas from cylinder to the engine. They are are mostly applied in automobiles.
Parameter:
Normal utilization pressure: 25-35MPa (250-350kg)
Most burst pressure: 154MPa
Bending Torsion: <=2N.M
Mechanical functions:
Good curvature machining property;
Highest blasting press;
Thickness is uniform with PVC;
Good binding force;
Products quality have reach international advanced level.
Size 8x1mm is also available.
Keys:
CNG High Pressure Tube, CNG steel tubes, CNG gas tube

Payment: T/T and L/C or negotiation
Packaging: Bundle,bulk in container or as per requirements.
Painting: as requested.
Protection: supply varnish coating, bevel end, plastic cap.
Get in Touch:
This inventory is part of the inventory, demand and other models in stock or order materials, please contact us. If you are interested in our products or cooperating with us, even having a comment or a suggestion please contact us now, for more detailed information. ......
More.