ASTM A333 Grade 4 Seamless Pipe
ASTM A333 Grade 4 is the part of standard covers wall seamless and welded carbon and alloy steel pipe intended for use at low temperatures. ASTM A333 Grade 4 alloy pipe shall be made by the seamless or welding process with the addition of no filler metal in the welding operation.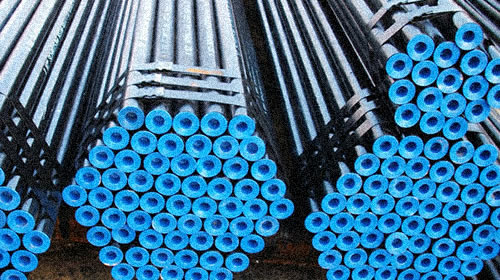 ASMT A333 Grade 4 seamless and welded pipes shall be treated to control their microstructure. Tensile tests, impact tests, hydrostatic tests, and nondestructive electric tests shall be made in accordance to specified requirements.
Seamless and Welded Steel Pipe size for Low-Temperature Service:
Outer Dimensions: 19.05mm – 114.3mm
Wall Thickness: 2.0mm – 14 mm
Length: max 16000mm
Application: Seamless and Welded Steel Pipe for Low-Temperature Service.
Steel grade: ASTM A333 Grade 4
Packing:
Bare packing/bundle packing/crate packing/wooden protection at the both sides of tubes and suitably protected for sea-worthly delivery or as requested.
Inspection and Test: Chemical Composition Inspection, Mechanical Properties Test(Tensile Strength,Yield Strength, Elongation, Flaring, Flattening, Bending, Hardness, Impact Test), Surface and Dimension Test,No-destructive Test, Hydrostatic Test.
Surface treatment: Oil-dip, Varnish, Passivation, Phosphating, Shot Blasting.
Both ends of each crate will indicate the order no., heat no., dimensions, weight and bundles or as requested.
ASTM A333 Grade 4 Chemical Compositions(%)
| | |
| --- | --- |
| Compositions | Data |
| Carbon(max.) | 0.12 |
| Manganese | 0.50-1.05 |
| Phosphorus(max.) | 0.025 |
| Sulfur(max.) | 0.025 |
| Silicon | 0.18-0.37 |
| Nickel | 3.18-3.82 |
| Chromium | 0.44-1.01 |
| Al | 0.04-0.30 |
Mechanical properties for ASTM A333 Grade 4 Alloy Steel
| | |
| --- | --- |
| Properties | Data |
| Yield strength(min) | 415 Mpa |
| Tensile strength(min) | 240 Mpa |
| Elongation(%, min) Y | 30 |
| Elongation(%, min) X | 16.5 |
Strike Temperature Condition for ASTM A333 Grade 4
The lowest temperature for strike test
℉
℃
-150
-100
Other ASTM Standards
A262 Practices for Detecting Susceptibility to Intergranular Attack in Austenitic Stainless Steels
A941 Terminology Relating to Steel, Stainless Steel, Related Alloys, and Ferroalloys
A1016/A1016M Specification for General Requirements for Ferritic Alloy Steel, Austenitic Alloy Steel, and Stainless Steel Tubes
E112 Test Methods for Determining Average Grain Size