Stainless Steel Seamless Tubes
Stainless steel tubing is typically measured by its outer diameter and can be used in a variety of applications including a number of structural applications.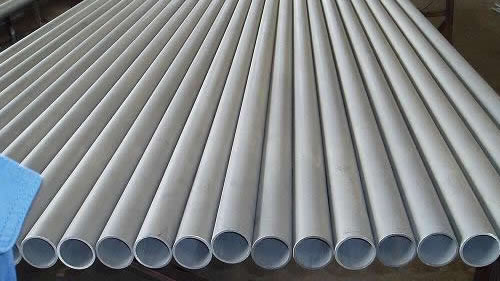 Stainless Steel Seamless Tubes is a hollow steel bar, a large number of pipes used for conveying fluids, such as oil, gas, water, gas, steam,heat exchanger,mechinical machine. In addition, engaging in bending, torsional strength of the same, lighter, and they are also widely used in the manufacture of mechanical parts and engineering structures. Also used in producing all kinds of conventional weapons, the barrel, artillery shells and so on. Range of Application
Considering the importance of outside and inside surface of stainless steel tubes for fluid power industry, Our mills are providing tubes that are free from scale, rust, seams, laps.
Standard (Norm)
Pipe Material(Grade)
Chemical Composition
Mechanical Properties
Technology Flow chart
Range of Applications
Common Applications for Stainless Steel Tubing Stainless steel tubing has a number of uses in a wide variety of industries. It can be used during manufacturing in processing plants or can become part of a final product. Stainless steel tubing can also be used in pipelines to transport oil, gas, water, or chemicals. The stainless steel tubing that is supplied by fsapexsteel can used in a variety of industries, including:
Machinery Parts
Food and Beverage Processing
Pharmaceutical
Biotechnology
Automotive

Marine
Construction
Chemical
Oil and Gas
Grade(UNS):
304/304L/304H(1.4301/1.4306/1.4948); 316/316L(1.4401/1.4404);
316Ti(1.4571);
321(1.4541);309S(1.4833);310S(1.4845);
317L(1.4438);321H(1.4878);347H(1.4550);
2205(1.4462) ;S31803,2507
Outside Dia:
6 - 325mm(1/4" – 12.75")
Wall Thickness:
0.50 - 22mm
Standards(Norm):
EN 10216-5;DIN 17456;DIN 17458;DIN 17459
GB/T14975;T14976;T13296;GB5310;
ASTM A213;A269;A312;A511;A789;A790;
JIS G3459;G3463;
GOST 9940;GOST 9941;
the main requirement for stainless steels is that they should be corrosion resistant for a specified application or environment. The selection of a particular "type" and "grade" of stainless steel must initially meet the corrosion resistance requirements. Additional mechanical or physical properties may also need to be considered to achieve the overall service performance requirements.