ASTM A53 Standard Specifications
ASTM A53 Standard Spec. for Pipe, Steel, Black and Hot-Dipped, Zinc-Coated, Welded and Seamless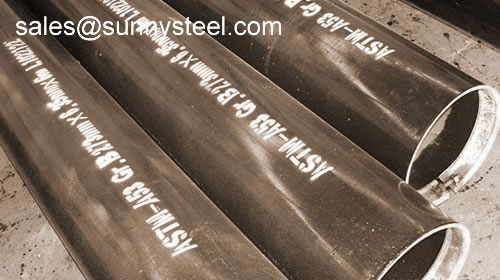 ASTM A53 pipe (also referred to as ASME SA53 pipe) is intended for mechanical and pressure applications and is also acceptable for ordinary uses in steam, water, gas, and air lines. It is suitable for welding, and suitable for forming operations involving coiling, bending, and flanging, subject to certain qualifications.
Materials and Manufacture
The steel for both seamless and welded pipe shall be made by one or more of the following processes: open-hearth, electric furnace, or basic-oxygen. The weld seam of electric-resistance welded pipe in Grade B shall be heat treated after welding.
Applications: heat exchangers, condensers, heat transfer equipment and similar pipes.
Note:
DN — Nominal Diameter
NPS —Nominal Pipe Size
Keywords:
black steel pipe, seamless steel pipe, steel pipe, welded steel pipe, zinc coated steel pipe, Black steel pipe–specifications, Seamless steel pipe–specifications, Welded steel pipe–specifications, Zinc-coated steel pipe–specifications
Packing: plastic pipe cap, plastic bag and steel strips bundled
Applications: petroleum, chemical, power, gas, metallurgy, shipbuilding, construction and more