Hot Dip Galvanized Steel Pipe
Hot-dip galvanizing (HDG), as referenced is the process of dipping fabricated steel into a kettle or vat of molten zinc. While the steel is in the kettle, the iron metallurgically reacts with the molten zinc to form a tightly-bonded alloy coating that provides superior corrosion protection to the steel.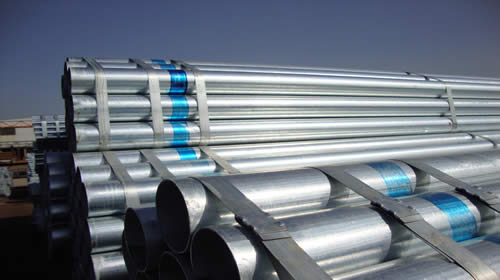 We can produce and supply to you various steel pipes according to international standard. Hot dip galvanized steel pipes are used in the following fields, steel structure, build structure, transportation of low pression liquid and gas etc. our products are exported to about 50 countries in the world, we get a lot of recognition from many customers since our good quality and service.
Production standard: and in wall thickness as shown in Table 1.

GB/T 3091-2001, BS1387 / 1995(UK),BS4568:1970,DIN 2440/2448, ASTM A53

Material:SPHC,SPHD,SPHE,Q195-Q235,SAE1006


Size: OD (6-610 mm) x WT (1-50mm)
GTC (galvanized threaded and coupling) steel pipe:
DN15-DN200 (NB1/2"-NB8")
GPE (galvanized plain end) steel pipe: DN15-DN200
Grooved steel pipe: DN15-DN200 (NB1/2"-NB8")
Section type: round, square, rectangular, oval and other special section type.
Cold rolling - to 8" x 8", 12" x 4" (easy way), 8" x 6" (hard way)
Draw bending - to 4" x 4" (easy and hard way)
Cold bending - to 8" x 8"
Mill Test Certificate:
EN 10204/3.1B
Third party inspection:
SGS, BV, Lloyds etc.